6 Highly-Rated Animated Movies Perfect for Children to Watch During Halloween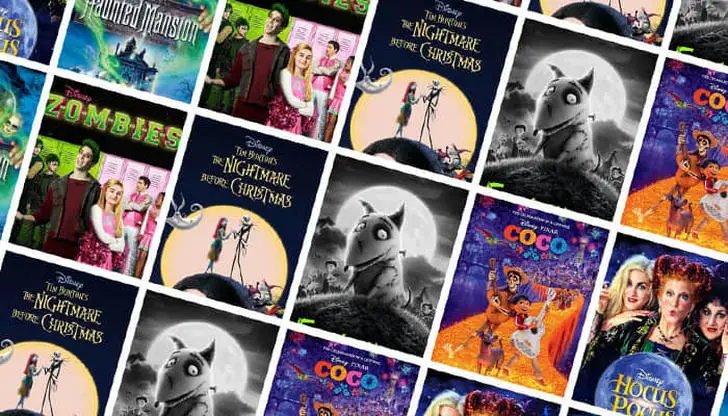 The upcoming Halloween is a children's carnival, a costume party where everyone can revel in mischief. For younger kids, dressing up as ghosts might be overwhelming and frightening. Movies provide the ideal way to celebrate, offering clear insights into the meaning of this festival. Today, let's highlight animated movies suitable for parents to watch with their children during the Halloween season.
1. Coco
Release Year: 2017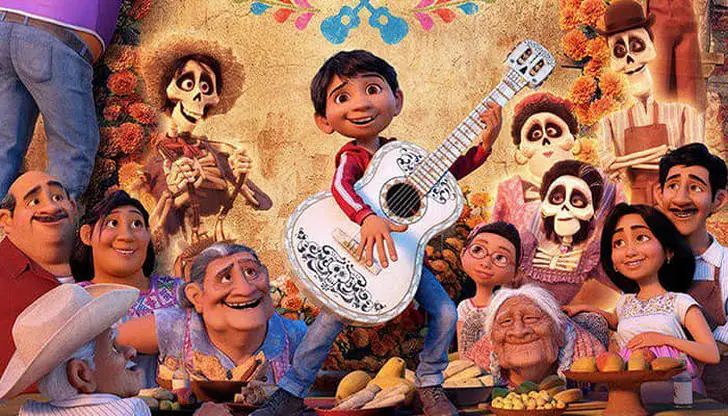 Plot:
Miguel, a music enthusiast, is unfortunately born into a family that views music as taboo. They hope he grows up to inherit the family's generations-old shoemaking business. As the annual Day of the Dead approaches, Miguel finds himself in the Land of the Dead. To return to the living world, he must receive a blessing from a family member before sunrise.
Miguel sets out to find his deceased musical, Ernesto, whom he suspects is his grandfather. On the way, Miguel meets the down-and-out musician Héctor and gradually discovers the long-hidden secret of Ernesto.
Reasons to Recommend:
The film portrays the Land of the Dead in a vibrant and warm light, contrary to the usual dark, cold, and spooky perception of the afterlife. The cartoon skeletons are adorable, engaging in song and dance, showcasing mutual assistance and friendship. The Land of the Dead features a colorful bridge of marigold petals connecting to the human world, allowing departed loved ones to visit their living relatives on the Day of the Dead. If the afterlife could be so beautiful, perhaps death wouldn't be as frightening.
2. Monsters, Inc.
Release Year: 2001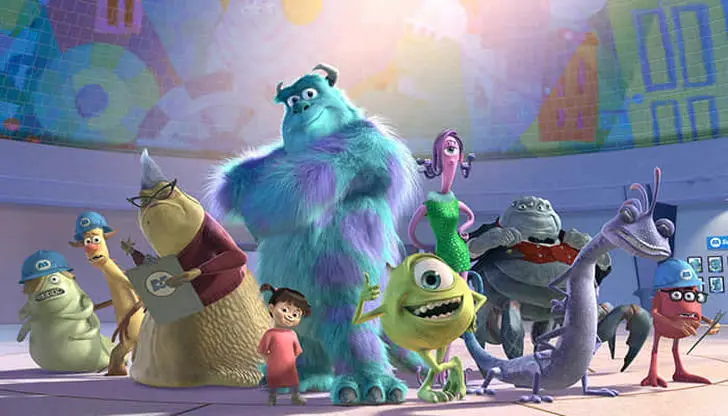 Plot:
In another world resides a group of monsters with comical appearances. They must appear fearsome, though, because, late at night, they sneak into children's closets to scare sleeping babies. This peculiar practice is essential because they work for Monsters, Inc., and the screams of children power the entire Monster world. Monsters both fear and need children's screams. In the monster kingdom, they are heroes contributing to the well-being of all. Sullivan, a top employee of Monsters, Inc., and his sidekick Mike, are adored by everyone.
By chance, Sullivan accidentally brought a two-year-old girl, Boo, into the monster world. The mischievous and adorable Boo scared the terrifying monsters, leading to chaos. While the police were chasing Boo, the villain Henry planned to exploit her for his evil factory reform. On the other hand, as Sullivan spent time with Boo, he gradually developed an affection for her, even leading to his exile into the wilderness. However, nothing could deter the Sullivan's determination to rescue the girl. For Boo's sake, he embarked on a perilous journey...
Reasons to Recommend:
The film is filled with inspirational positive energy, teaching us the lesson that where there's a will, there's a way. Such motivational messages are abundant throughout the movie. The outstanding storytelling ability of Hollywood shines through, avoiding dull and straightforward narratives in favor of a thrilling and fluctuating plot.
3. Coraline
Release Year: 2009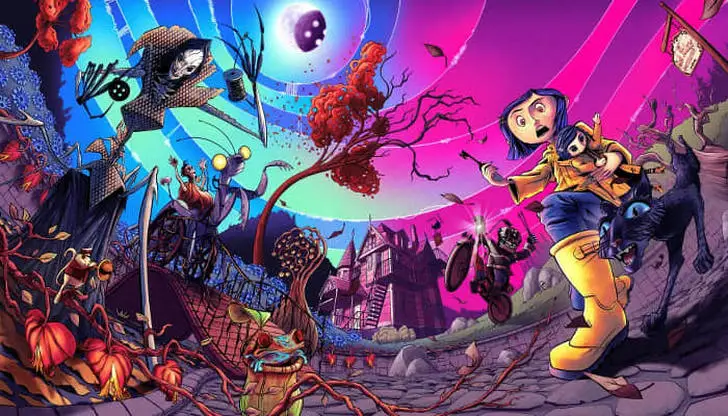 Plot:
Do you believe there's a passage to another world tucked away in some corner of your home? Don't crawl in. When the young girl Coraline moves into a new home, the rundown and lifeless environment makes her feel unbearably bored. With dull and old-fashioned parents, eccentric neighbors, and an annoying little boy with his small black cat, life seems deadly dull for her imaginative mind. However, things aren't always as bad as they seem. One night, she discovers a peculiar door sealed with wallpaper next to the fireplace. Being the adventurous type, Coraline can't resist the opportunity to explore, so she slowly climbs through the passage.
On the other side, Coraline finds a world identical to reality but with intriguing differences, where everything seems to have been duplicated, and her dreams are coming true. What delights Coraline the most is that the mother in this world is kind, affectionate, and utterly accommodating. However, as time goes on, she discovers that this "Other Mother" plans to sew buttons onto her eyes and keep her forever in this world. Coraline realizes she's in deep trouble and must find a way to escape the clutches of the "Other Mother."
Reasons to Recommend:
With its bizarre and eerie style, the stop-motion animated film "Coraline," adorned with gothic aesthetics, unfolds as a dark adult fairy tale. The movie embarks on a fantastical adventure through the eyes of a curious girl, delving not only into real-world family issues but also revealing the deeper truth that life is never entirely perfect.
4. Corpse Bride
Release Year: 2005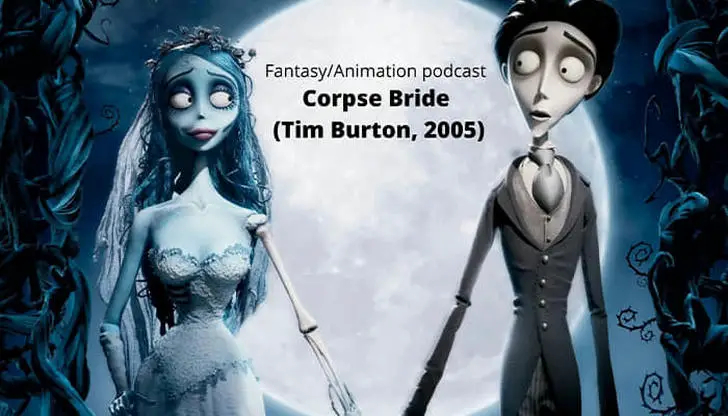 Plot:
Victor's parents arrange a marriage for him to Victoria, a young lady from a declining noble family. Victor, being introverted and sensitive, struggles with expressing himself. On the eve of the wedding, he retreats to a small grove to secretly rehearse the vows. However, an unexpected incident occurs. When he places the ring on a branch on the ground, he is astonished to find that the branch transforms into a skeletal finger!
The skeletal finger of a dead girl named Emily gowned in a wedding dress, who rises from the grave, proclaims herself as Victor's new wife, and spirits him away to the Land of the Dead, a realm far more colorful and whimsical. He is deeply moved by the scene before him, and his fear gradually dissipates. However, faced with two worlds and two brides, Victor must make a choice.
Reasons to Recommend:
It is a healing and romantically humorous work that has a relatively slow pace and requires children to sit down and appreciate it. However, after watching, you will undoubtedly feel a unique warmth. The content of the film is somewhat absurd and humorous, yet the colors are vibrant. The real world appears lifeless, while the underworld is rich and colorful.
5. Hotel Transylvania
Release Year: 2012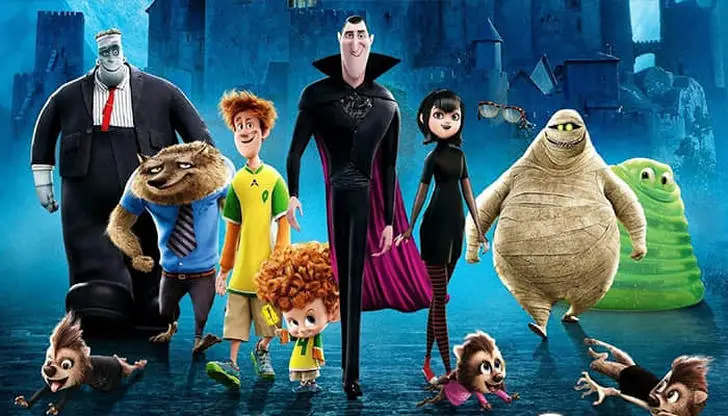 Plot:
Deep within the eerie and terrifying forest stands a majestic and solemn castle. The owner of this castle is the renowned vampire Dracula (voiced by Adam Sandler). Unlike the legends, Dracula is an incredibly gentle and loving father who single-handedly raises his beloved daughter, Mavis (voiced by Selena Gomez). To protect his daughter from harm by humans, Dracula has specially turned this castle into a monsters-only hotel, a place where ordinary humans cannot approach.
Every year on Mavis's birthday, monsters like Frankenstein, Werewolf, Mummy, and the Invisible Man from around the world gather to celebrate the little girl's birthday. On Mavis's 118th birthday, she yearns to explore the outside world. Dracula prepared for this moment, sets up a ruse but accidentally brings a human traveler, Jonathan, into the castle. Jonathan's arrival seems to bring a new breath to the monster world, and Dracula has to go to great lengths to conceal the fact that he is a human to protect the hotel's future and his career.
Reasons to Recommend:
"Hotel Transylvania" subverts the typical portrayal of monsters as evil, cruel beings that harm humans. Instead, the monsters become objects persecuted by humans, living in seclusion to avoid human persecution. Although the film's main theme is not romance, the love story between Jonathan and Mavis propels the narrative forward, sparking numerous conflicts and serving as a core element in showcasing the theme of paternal love.
6. The Nightmare Before Christmas
Release Year: 1993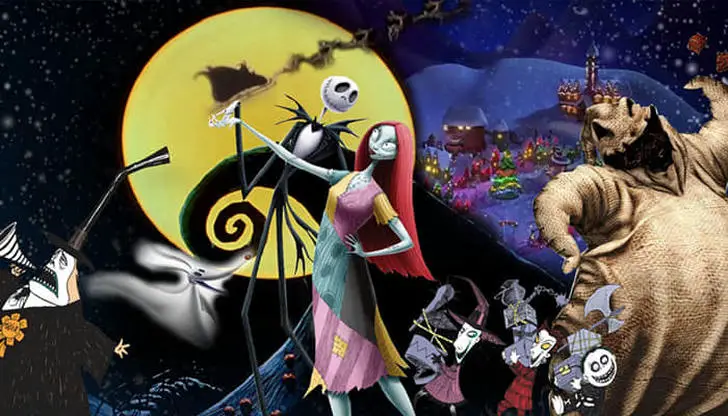 Plot:
In Halloween Town, the various monsters and beings are accustomed to causing mischief every Halloween, being entirely quirky creatures with a penchant for frightening people. Jack Skellington, who is respected by the citizens as the "Pumpkin King", leads them in organizing the annual Halloween celebrations, but he has grown tired of the same annual routine and wants something new.
One day, he stumbles upon the doors to Christmas Town, and the sight inspires him to lead his fellow creatures in creating Christmas joy. Unfortunately, the ghouls of Halloween Town struggle to comprehend the true meaning of Christmas. Jack kidnaps the chubby Santa Claus and instructs his comrades to diligently produce Christmas presents. However, the Halloween-minded ghouls, entrenched in their frightening ideas, find it challenging to create joyful gifts. Consequently, terrifying and scary gifts are delivered to children on Christmas night.
Reasons to Recommend:
"The Nightmare Before Christmas" is not just an animated film; it's an allegory of life, a piece of art mocking destiny. The story of "good intentions gone awry" is both bizarre and humorous, creating an oddly entertaining film. The imaginative concept of using Halloween to open the door to Christmas, coupled with the animated format presented in the style of a musical, makes the film stand out, especially as a stop-motion animation.