8 Amazing Ice Bars In The World
Looking for a way to chill out in style? Look no further than the coolest ice bars in the world! These icy watering holes are a must-visit for anyone who wants to sip their favorite drinks in sub-zero temperatures.
From ice sculptures to frozen furniture, you won't believe your eyes. Whether you're looking for a unique night out with friends or just want to escape the heat, these ice bars will definitely surprise you - and maybe even give you a brain freeze!
So bundle up, grab a warm coat, and get ready for a chilly adventure through the coolest ice bars in the world.
8. Aurora Ice Bar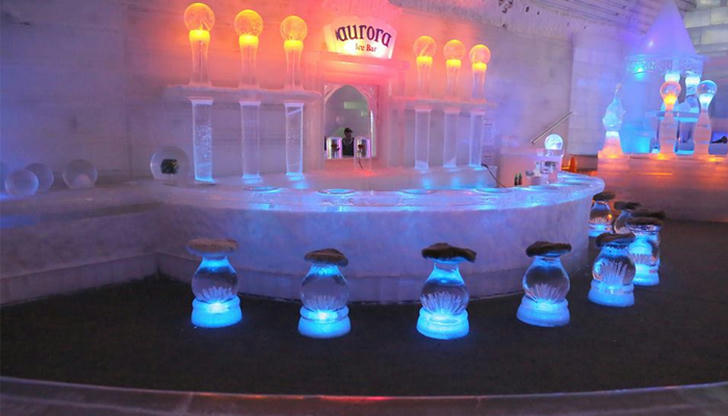 This ain't just any ice bar - it's the Aurora Ice Bar. As a chilly thrill-seeker, you won't want to miss the world's biggest year-round ice museum! You can explore an entire museum made entirely of ice - with admission tickets, of course. It's a frosty -7°C (25°F) inside. But don't worry - there are free parkas that you can wear during the tour.
7. Hotel de Glace
Welcome to the Hotel de Glace, the coolest hotel in North America! You can find this hotel on the slopes of the Laurentian Mountains, Quebec City.
This frozen palace is built fresh every December, staying open until March for all you frosty fans out there. From its snow-made suites to its ice-cold amenities, you're in for a truly authentic icy adventure.
6. Chillout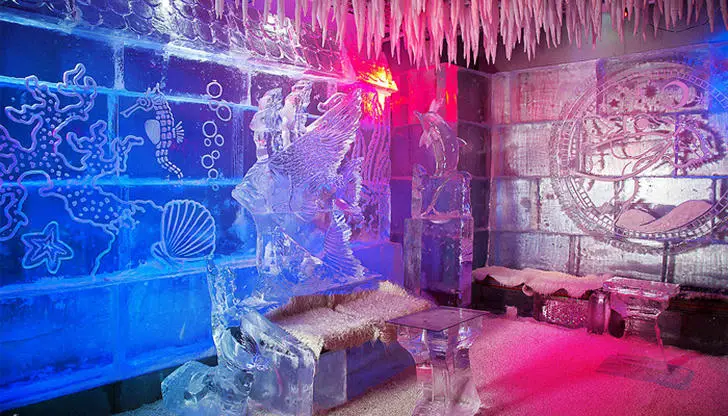 Hold on to your hats and hot cocoa, because Dubai is bringing the heat - or should we say the chill? That's right, Chillout is the Middle East's very first ice bar, built in 2007.
Don't let the name fool you, though. They will get you covered with warm coats, gloves, shoes, and even socks. And hey, it's not all about the drinks here - if you're feeling extra chilly, you can order some hot chocolate or soup. They've even got sandwiches to keep your tummy from getting too chilly.
5. Kube Hotel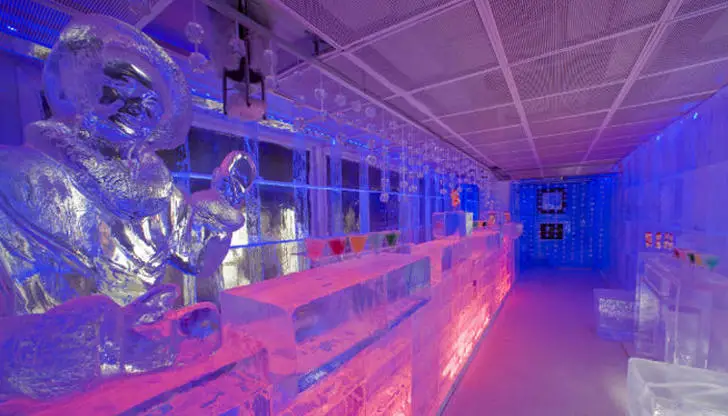 If you're looking for an ice bar in a warmer place, you can visit the Kube Hotel in Paris. It specializes in vodka cocktails that are sure to give you the chills. They'll lend you a heavy coat and gloves to keep you toasty while you sip.
Just make sure you leave the kiddos at home - this bar is strictly for adults only, so you can sneak in a few vodka shots without any interruptions.
4. Minus5° Ice Bar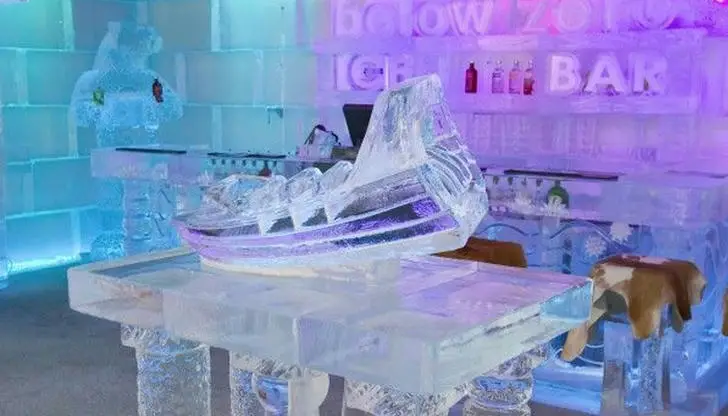 Ready to chill out in style? Then head on over to Minus5° Ice Bar - it's the epitome of all icy spectacles in the USA, found in sassy locations like New York, Vegas, and Monte Carlo.
Believe it or not, everything inside the Minus5° Ice Bar is icy-cold, from the walls, bar, seats, and even the glasses you sip your cocktail from - chill to the bone! They never disappoint when it comes to giving you the coolest (literally) adventure, as they keep adding fresh ice sculptures to keep things frosty!
3. Frost ice bar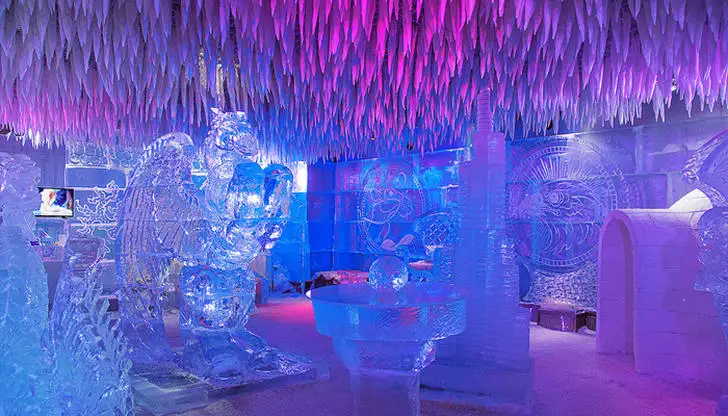 The Frost Ice Bar in Boston is a one-of-a-kind spot for chilling with some icy beverages and banter. This frozen paradise is made entirely out of ice, making it a perfect winter wonderland.
The thermostat is set at a crisp 21 degrees to keep your spirits high while you cozy up to their premium drinks menu, offering everything from feature cocktails to local brews, wine, and non-alcoholic drinks - cheers to that!
The best part? The Frost Ice Bar is a family-friendly joint, so bring your little penguins along for an epic ice adventure!
2. Jukkasjärvi ice bar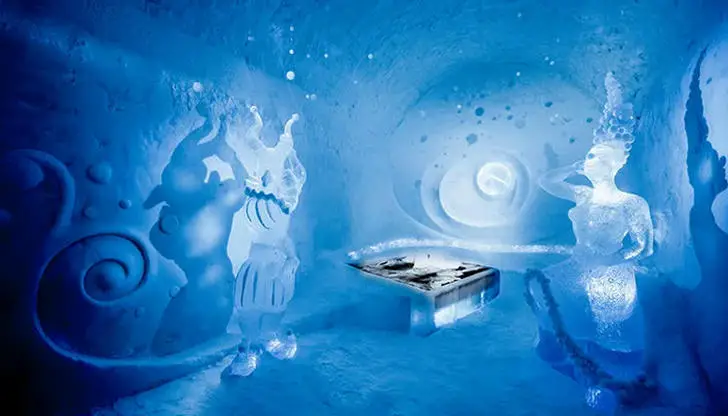 Let's head to the land of the midnight sun - Jukkasjärvi, in northern Sweden! This frosty paradise is the OG of ice bars worldwide, established in 1994, and the first-ever spot to serve up icy drinks in ice glasses!
The bar is housed in a swanky ice hotel above the Arctic Circle, where every year, talented artists revamp the place with a unique theme, making it a true art gallery for frozen sculptures. It's safe to say; the ice hotel has major bragging rights, and we're not complaining!
1. Royce' Bar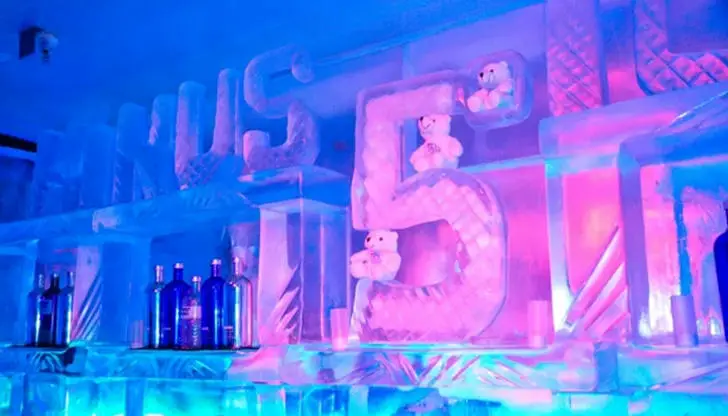 The Royce' Bar in Tobetsu city, near Sapporo, is a seasonal ice and snow kingdom that pops up only during the winter. This icy oasis serves up a range of hot drinks to keep your soul warm and toasty.
You can waltz in for free from 11:00 to 20:00. However, from 20:00 onwards, it's strictly a hotel for guests who pre-booked. So, get those reservations in pronto if you want to snuggle up in this winter paradise - trust us; it's worth the chill!